C & O Canal Towpath Adventure
by: Rob Williams
May 29, 2015 I was dropped off in Cumberland Maryland at what was Mile 0 of the Great Allegany Passage and Mile 184 of the C & O Canal Towpath. It was a very warm late spring morning at about 11:45. I was ready to start my adventure East on the C & O.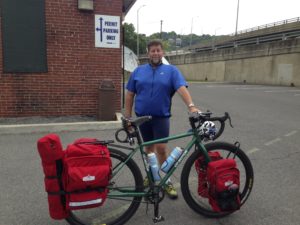 I parked my bike at the Visitor's center which also is the train station there. I knew this was the last opertunity to utilize some modern facilities for the next couple days.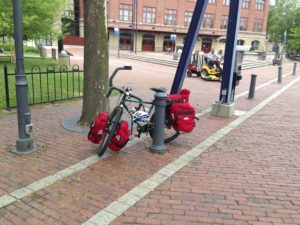 Well refreshed and ready to leave I hit the trail leaving Cumberland and heading off into the rural area of Western Maryland towards Washington D.C. which lay 184 miles to the east. I didn't set out to make it the entire way to D.C. mind you and really had no idea how far I would make it on this trip but the path and course was laid ahead of me and the journey had begun.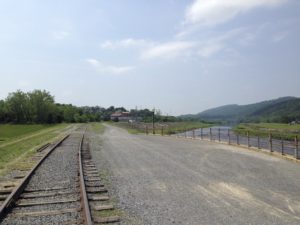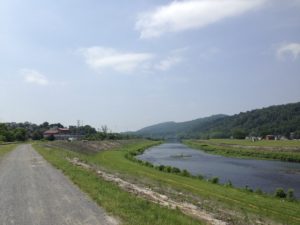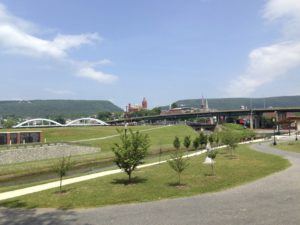 As I rolled along the trail afternoobn was starting and it was noticeably HOT! The scenery was absolutely wonderful! It was a clear day and everything was alive with fresh colors of spring time backed by a beautiful blue sky. This is where I wanted to be. Out in the secluded country. Having not been on a trip like this alone before I began to think how nice it might be to spend the night near Hancock MD near civilization. Barbara and her family had dropped me off in Cumberland and were going to be staying the weekend at a camp ground there and they were going to ride the Western Maryland Scenic Rail Trail. We had ridden that back in 2013 and greatly enjoyed it. My making it there was somewhat doubtful for the night though as that Camp Ground is at mile 129 of the C & O and I started at Mile 184.
The C & O canal was built so that barges of supplies could be moved from Washington DC to Cumberland. The Canal towpath was used for teams of mules to trudge along pulling the barges thought the canal. As the canal travels West it gains elevation from the tidewater area into the Mountains. For this to work Locks were built along the canal to raise the barges from one level to another. The remains of thee locks along the canal are still present and some of them are very much in tact. It is simply amazing to look at the amount of stone work labor and engineering that went into creating these so long ago.
The C & O Canal National Park service maintains several campsites along the towpath. These campsites are free to stay at and usually contain a well, outhouse, pick nick table and fire ring. The park service does an awesome job maintaining thee sites and keeping the grass mowed.  This is very important as you must remember that most of the C & O runs thought rural forest! Forest containing all the eastern wildlife you can imagine. And "Guess What" kind of creatures there are that Rob doesn't particularly like and there are many species of living here,,,,,, Snakes!
As the afternoon creeped by I was charging down the trail. The C&O has quite a bit to offer in wet spots, mud wholes, roots and rocks. the C&O is not the horror story you read online but it is not a road biking trip or your average trail by no means! On this particular afternoon it was HOT and the C&O does provide some rough riding conditions. As the afternoon wore on I began to worry about water. I was running low.
20 Miles into the trip I had witnessed some great scenery, saw an abundance of wild life, but very little in the way of services. Most of the online guides for the C&O list services that are available along the trail, however most of them are not on the trail but are instead several miles away off the trail. When I reached Paw Paw West Virginia I was hot and dry and had read there was a store near by. The trail there has a near by recreation area connected to a highway. Standing at the intersection of the highway with no cell service and nothing coming up on the GPS I looked uphill to the left an downhill to the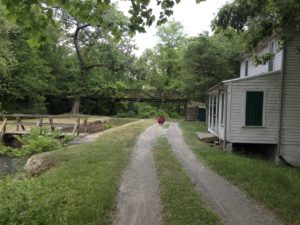 right. And I mean mountainous hill. There was nothing in site and I had no idea if I went one way verses the other that I would reach anything and would have to do some climbing either way. I decided to filter some water from one of the pumps there at the recreation area. All the wells along the C&O are treated with iodine. I can get used to the taste but with Thyroid conditions Iodine is not something you want to drink a lot of and filtering does not remove it. As I was filtering my w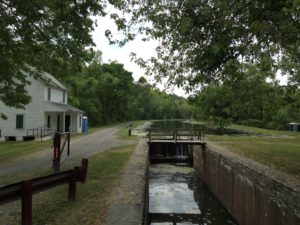 ater from the pump some people came along walking from the Paw Paw tunnel and told me not to worry If I was hot I would definitely get cooled off when I go through there.
The Paw Paw tunnel is 3,118 feet long. The canal runs through the tunnel and there is an elevated walkway about 4 feet wide with a wooden railing. There are NO LIGHTS in the tunnel. You have to carefully walk your bike through the tunnel. It doesn't get real until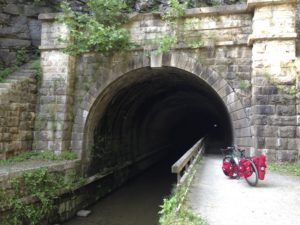 you are half way through the tunnel and there is a dot of light in front of you and a dot of light behind you representing the openings. There are noises from creatures in the water of the canal and the occasional drip of cold water from the ceiling that surprises you when it falls on you. Scooby Doo, Where Are You???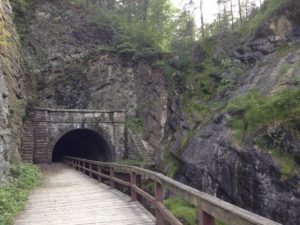 On the other side of the tunnel begins a 15 mile stretch through the mountains where I didn't even come across a dirt road or anything resembling civilized inhabitance. It was Hot, and Muggy. I was working those pedals trying to get down the trail to find somewhere that I could camp that would hopefully be near some kind of services where I could restock on fresh water. I stopped at several pumps and at one time had r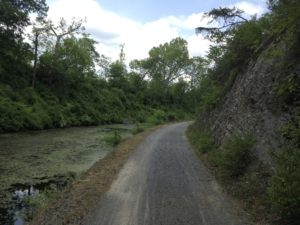 eached the point of thirst where I didn't even other filtering. My sawyer filter was the slowest thing in the word and so I just drank it as it was strait out of the well. No cell service, no people, no nothing but an occasional Hiker / Biker campsite and pump. To add to the challenge I could hear thunder on the other side of the mountains. Fortunately it never rained on me. Though I am not sure I would have totally minded it as hot as I was.
It was getting to be around 6:30 and I noticed some roof tops off to the side of the trail. I originally thought it was private property but upon further investigation I was pleased to see a small Campground. I had reached Little Orleans campground at Mile 140.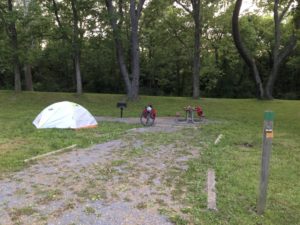 And at the exit of the campground was a road that lead up a small hill to "Bill's Place". There was a couple at the campground camping and canoeing for the weekend. they explained to me a little about the area as they had been there several times. I picked out a camping spot and headed up the little hill to Bill's Place. It was simple and nicely kept. Everything you purchased rounded out to an even dollar, he didn't even use a cash register. I purchased a cold Coke, Gatorade, and water. Headed back to my campsite to get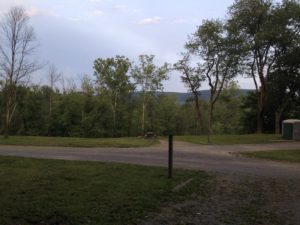 things set up and rest some. I soon realized that I was sick suffering from heat exhaustion and I made a mistake I won't forget. I drank the Gatorade first, always drink the coke first so it will calm your stomach. I was pretty sick for a while but recovered slowly as I put my camp together and got ready to slide into my tent for the night.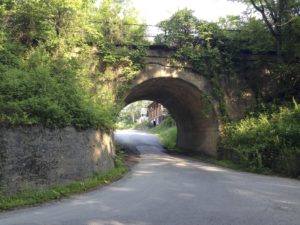 During the night I got some much needed rest. There are train tracks near by and you really don't need to worry about sleeping more than an hour at a time as the train will be blowing it's horn and roaring though every hour. Aside from that and some substantial noise from some canoers who were celebrating I slept ok. The next morning I made some coffee and oatmeal for breakfast. I must say that I think the JetBoil SOL is one of the most awesome inventions ever. After braking camp I pedaled back up the small hill to Bill's place where I stocked up on water and treated myself to a Mt Dew to start my ride with.
As I got closer to Hancock MD the C&O runs along side the Western Maryland Scenic Rail Trail. It was getting closed to about 11:00 when from out the woods several yards up the mountain I heard the loud familiar voice yelling "Hey What Are You Doing?" It was Barbara and Ryan. We hollered back and forth a little and I told them I would see them towards Hancock.
Here a midst the mountains stood the remains of a cement mill that had once provided many jobs I am certain for all the cement needed along the canal during it's construction.
As I got closer to Hancock I noticed a path leading off the trail over to a small road. When I reached the small road a guy sitting on a porch called out to me and asked if he could help me and I explained I was looking got the Western Maryland Scenic Rail Trail. He replied no problem its right up this small road behind my house. That small road was a rocky goat path that I had to push my bike up holding the breaks But once I got to the top there was the paved Western Maryland Scenic Rail Trail waiting and I rode right on in to Hancock. I met up with Barbara and her family and we went to Lunch. At lunch she explained to me that the weather was calling for severe storms around 3 that afternoon. They were staying at the Happy Hills Campground in a cabin. The staff there allowed me to pitch my tent on the same lot at no additional cost. I decided to stay there instead of riding on due to the approaching storm. boy was that a good decision. It stormed and rained something awful that evening. For 3 or 4 hours. Everything that wasn't up on a hill was flooded. The next morning I packed up my wet tent and decided to ride what I could. I was able to leave half of my load with Barbara as it was Sunday. And we would be heading home later in the day. The Happy Hills Campground is supposedly on the Western Maryland Scenic Rail Trail and C&O. As it turns out there are trails leading from the campground through the woods down to the WMSRT and connecting to the C & O beyond.  The campground is on a large hill. There is a network of trails used for ATV competition, and a trail in there somewhere that connects to where I was going. The maps are poor and the directions the campground staff gave were worse. The torrential rain the night before made the whole thing like a logging road and my bike soon accumulated so much mud that the wheels wouldn't turn over and I had to clean it off with a stick. Studying my Garmin GPS I was able to spot the WMSRT and a parking area. I headed to the part of the ATV trail that s closest to that and walked my bike through the woods and down a steep embankment to land on the trail nice paved WSRT and road that along until a connection back to the C&O was possible. This took over an hour of my day.
Finally back on the C&O I began making tracks east. It was a beautiful morning and I enjoyed taking in the sites.
Some of my friends joking with me prior to my trip kept reminding me of the potential hazards of being in the mountains and hearing Banjo Music!! Sure enough I began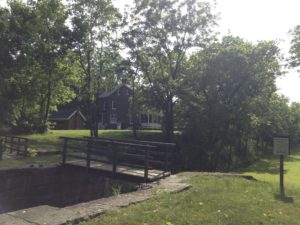 hearing Banjo music riding down the trail and it may be difficult to see in the picture below but there was a well dressed gentleman outside of this mansion on the trail playing the Banjo. It sounded quite lovely and relaxing but I pressed on.
Eventually I arrived at Big Pool MD at Fort Fredreick. This is where I was to meet Barbara and the gang to get off the trail and journey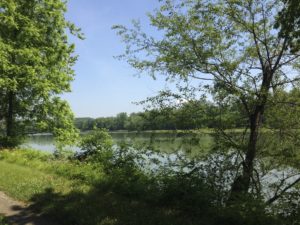 home. I had ridden a little over 83 miles in the past 48 hours and had quite an adventure. I would look forward to returning some day to ride farther.
THE ADVENTURE CONTINUES
May 27, 2016 I returned to Ft Freddrick to pick up on the C&O where I had left off. It was 11:30 in the morning as I hit the trail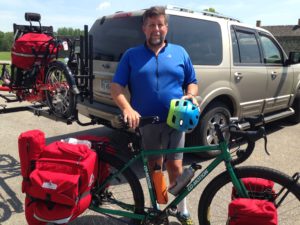 and set out on another adventure. This time it was memorial Day Weekend, but like last year it was Sunny and quite warm. The day was off to a pleasant start though. The sky was blue and all the things in the woods were alive with spring time. As I rode down the trail I kept smelling the sweet fragreances of wild flowers.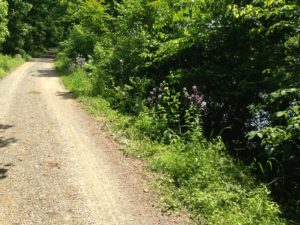 I really enjoy looking and smelling these little flowers along the trail. I have no real knowledge of what they are but they smell nice.  Thinking back on my struggle last year for water this time I came prepaired. I had 2 21oz bottles but I also had 6 1 liter bottles of water. There should be some way that I can find replenishment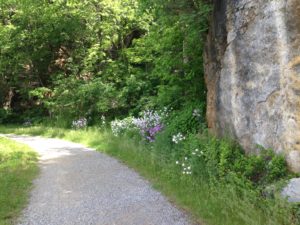 before running out this time. I had wanted to bring my new Azub Six recumbent on this ride but the rack extensions weren't in yet and so I opted to bring my Co-Motion Divide again this year. This section of the trail was a little nicer than last time. There was a lot of two track and some wet spots and some roots but a majority of the trail was as you see it in the picture above.
On down the trail a little ways was Four Locks. This site is called this because of the steep grade in the land when the canal was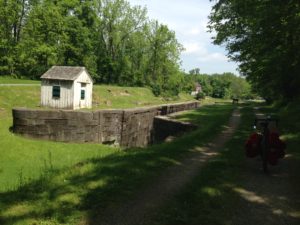 constructed they had to place four locks in a row to elevate the bargas up the hill.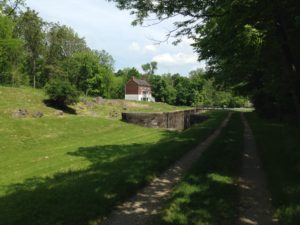 At this site there is a very nice Lock House where the workers used to stay. You can rent this for the night I fyou would like to stay there. I'm told they are really nice. There is a parking lot and river access at this site also.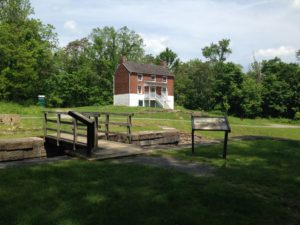 The C&O canal towpath is located between the canal and the Potomac river. The river is pretty wide at this point and has a considerable amount of boat traffic. It isn't unusual to spot people swimming and fishing.
Not long after Four Locks I came across this beautiful section of trail where they had carved the path out of the side of the mountain. It was very beautiful and neat.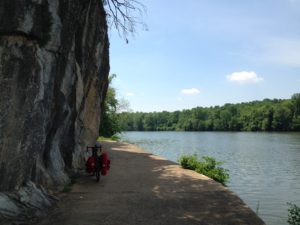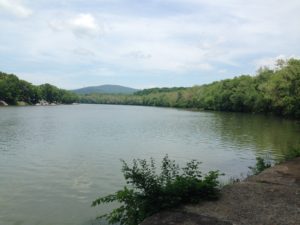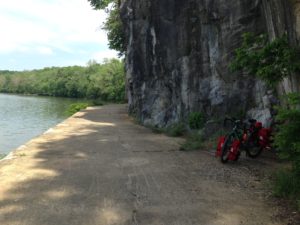 On down farther you reach Dam # 5. Dams along the river were used to collect water for filling the canal and locks. This was very neat. I am not certain what once was constructed at this site but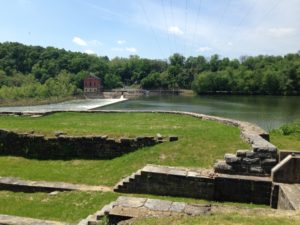 there is an amazing amount of stonework. The stonework is amazing to think that it was built centuries ago and there was so much labor and engineering involved in a time when big land moving machines did not exist. Workers in those times knew what sweat was all about.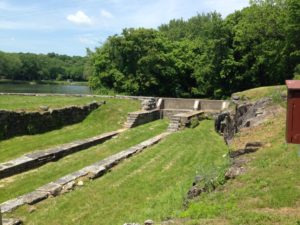 How many times today do you see work going on where there are several people standing around watching someone with a tractor or some machine doing the work. In the times when this canal was built it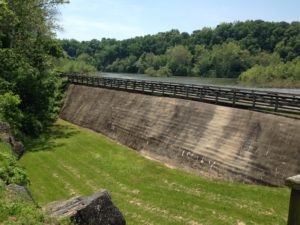 was hard hand labor that got the job done. At the dam there is a pump station at the far in actively pumping water for the nearby town I suppose. Whatever it is doing it's pretty loud. I thought this picture was pretty neat how the water curves over before breaking appart.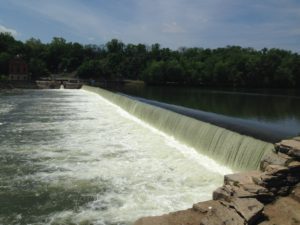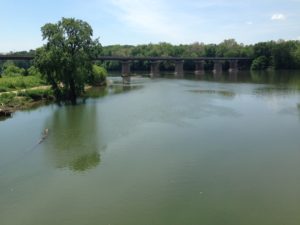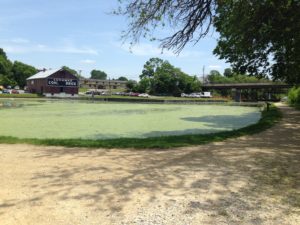 In Williamsport there is a tressel going across the river, and an old Coal Brick company that appears to be in the process of becoming the Williamsport Vistitor's center but I didn't go over and investigate. There was a lot of construction and not much indication where people on the trail should go.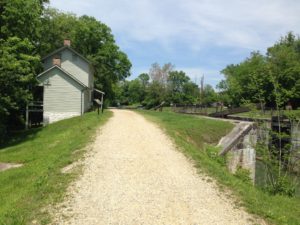 Several Lock Houses line the towpath. Some are in pretty good condition and can be rented to stay in. Others are kind of dilapidated. Sometimes there is just eh stone work for the foundation left. The park service is still doing a fantastic job of keeping up these free Hiker / Biker campsites though.  And most of them come with a fantastic vie w of the Potomac river.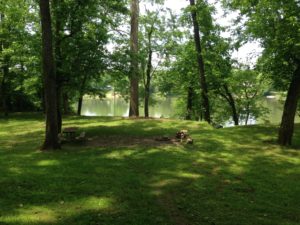 I came across another section where the towpath was carved out of the side of the mountain. this looked like a prime place for a lunch brake. Out with the peanut butter crackers and a nice little brake from pedaling. It was very peaceful and I enjoyed a good 15 minute brake here.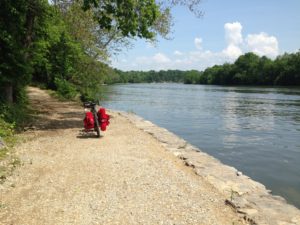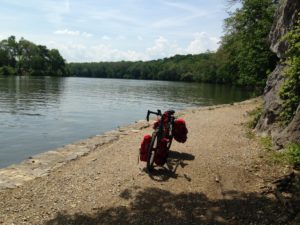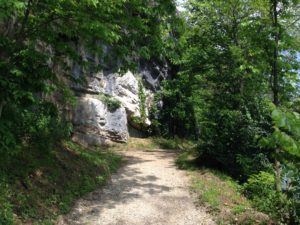 There is a section of the trail called Slack Water around Downsville MD. that eroded away over time. A large project was undertaken in 2012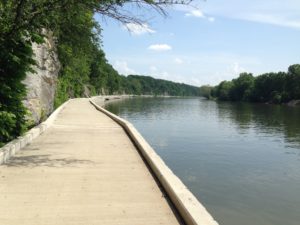 to provide a concrete path along the Cliffside so the trail could reconnect. Prior to that you used to have to take a on road detour around this area because the actual towpath was inaccessible. I enjoyed riding thi ssectoin, it was really neat!!
Dam # 4 is a nice site where there is another dam and a pump station across the river. There was quite a little down hill leaving this site which made for an interesting test of my brakes :).
It was getting on about 4:30 and I had ridden 33 miles when I came across this nice camp site. It was a free Hiker Bicker campsite located about 1 mile from Taylor's Landing. I had wanted to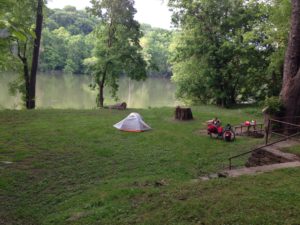 make it to Antietam recreation area but two bikers coming from that direction said it was full and a lot of other sites were full also. So I decided to go ahead and camp here for the night. There was a storm coming and according to weather reports there were supposed to be storms from 8:00 – 10:00. I set up my camp and got my supper cooked.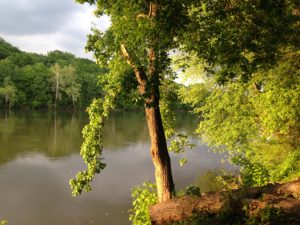 Those Mountain House meals from REI where you just add a cup of boiling water and stir, I have to say they are pretty good!! I had chicken and dumplings that evening and I thoroughly enjoyed those. It was so nice to be out in a quiet secluded spot where I could eat my supper and just watch the river flow by.
Well it never rained where I was. But the wind picked up a couple times and I heard it thunder plenty around me. As dark fell I climbed into my tent for the night. When the storms were gone there was just an eerie quiet. Not even crickets broke the silence that night. Just a distant train in the night about every hour or so.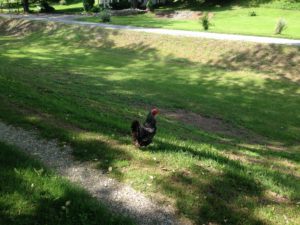 I ahd passed a rooster back at Taylor's Landing which was about a mile away from where AI camped. And don't you know that I could hear him crowing at 4:45 the next morning. That little guy has a set of lungs on him.  So I got up and ate my oatmeal and broke camp. I got on the trail at 7:00 heading along. It is so nice to be out early in the morning on a bike!
Well it was nice, I found where the rain went the night before…. I ran through lost of Mud wholes and wash out , and roots galore.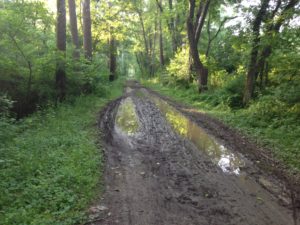 In spite of all the rough sections of the trail there were still quite a lot of people. I mean people and more people. This section of the C&O runs through an area that have small towns near the trail. Every few miles you have a parking area where local people get on the tail to walk, jog walk their dog or ride. I even met two riders on horseback. In addition you have the normal cycling tourists and Memorial Day weekend being one of the first nice weekends of the season brought out a lot of visitors.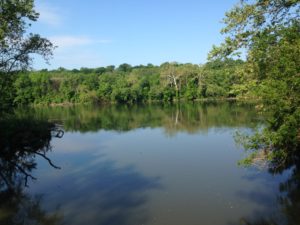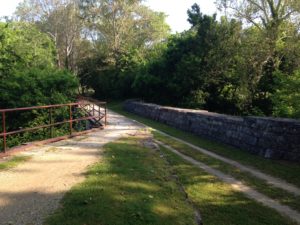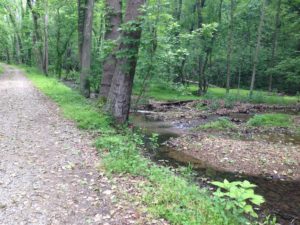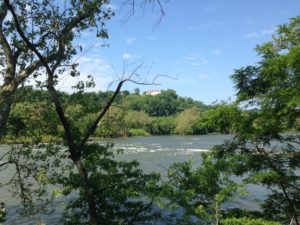 It was a beautiful morning. Sunny with very few clouds in the sky. There were many really good views and plenty of wildlife along the trail. WI rode along enjoying the scenery however the trail had several wet sections and washed sections with roots that continued to beat on me. Riding the Divide with 29″ wheels made it easy to power through or over any obstacles however the one thing lacking in my Divide bike is suspension. As I approached Harper's Ferry West Virginia I was getting soar.  The gorgeous views aided greatly in keeping me smiling and rolling along. Most of the people I met were very pleasant and cheerful with only the occasional snob that wouldn't dare utter a "Good Morning".
Harper's Ferry, WV has several miles of nice trail in that area and some beautiful mountain views with a nice trestle and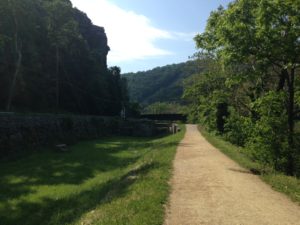 tunnel near the trail. This was another busy section of the trail with a lot of visitors. The Appalachian Trail also merges with the C&O through here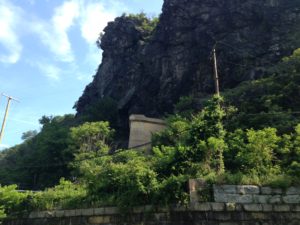 so there were several hikers I met through here. It was a pleasant section to ride in but it was getting hot and I was soar and starting to get hungry. It was beginning to seem as if the farther I went the more people I saw and the more crowded the trail was getting.
At 11:00 I rolled into Brunswick MD. A small hilly town with a lovely downtown section and a couple of restaurants.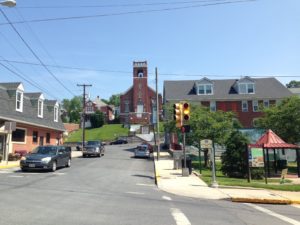 At this point I had ridden 25 miles, battled mud, rough terrain, lots of people, and it was 90 degrees already. From what I was hearing it was going to be difficult to find an open campsite for the night and I was picturing myself trudging from site to site trying to find a vacancy in 95 degree weather with the possibility of being stuck in the middle of nowhere with no place to pitch a tent.  I absolutely hated to give in but after giving it quite a bit of thought I decided the smart thing was to end my journey for this trip right here.  I was really disappointed but didn't want to push myself into a bad situation. I did manage to cover 57 miles of trail in 24 hours and under some rough conditions. I will return here in the fall to finish the remaining 55 males.