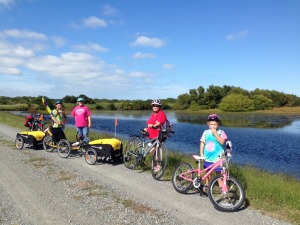 We would like to share some of our trips and adventures with you. We are quite new at biking/camping but are enjoying our times.
FALSE CAPE STATE   PARK
False Cape State Park is a state park in Virginia Beach, Virginia. It lies between the Back Bay and the Atlantic Ocean. On the Virginia side, you enter in at the Back Bay National Wildlife Refuge. It can also be accessed on the North Carolina end also.
The park offers a wonderful opportunity to experience the natural beauty in a unique, primitive setting.  You can only get to the park by biking, hiking or boating in. There are primitive camp sites available for camping.  This is a very remote area so if you are looking for solitude and quiet you will find it here!