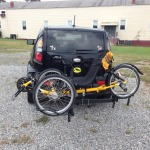 Once I received my TerraTrike Tour II then I had the dilemma of finding a carrier suitable to carry it on my 2010 Kia Soul. Hitch Rider Racks out of Sunnyvale Ca. had just the one I was looking for. It fits on my little car perfectly with hardly anything sticking out on either side.
The carrier is a little heavy for me to install or remove by myself so I just leave it on the vehicle. It is very simple to pull a lever and the carrier folds down so I can easily get into the hatchback, load my groceries and then fold it back up.
When I am ready to take off and go on an adventure with my trike, I just fold the carrier down, load and strap down the trike and I am ready to go. The carrier is at a good level so that I can lift my trike by myself. I simply strap the trike down and I am on the way. I highly recommend this carrier and company! They were very helpful and fast on delivery.